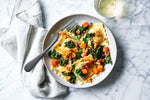 Ravioli with Butternut Squash, Walnuts and Chard
Ravioli tossed with a sage browned butter sauce and topped with sautéed butternut squash, chard and walnuts. Our Maple Cinnamon Walnuts pair perfectly with the butternut squash flavor and make this dish extra indulgent. Click here to view the recipe.
INGREDIENTS
10 tablespoons butter, divided
2 1/2 cups (1/2-inch cubes) butternut squash
1 cup coarsely chopped Nutty Gourmet Maple Cinnamon walnuts
1 small bunch rainbow or red chard
Sea salt and pepper to taste
1 tablespoon balsamic vinegar
4 cloves garlic, minced
1 tablespoon snipped fresh sage
1/4 teaspoon sea salt
Freshly ground pepper to taste
2 (8 or 9-oz.) packages butternut squash ravioli*

Grated fresh Parmesan cheese (optional)
PREPARATION
Melt 2 tablespoons butter in a very large nonstick skillet over medium heat. Add squash and cook for 10 minutes, stirring occasionally. Add walnuts and cook for a few minutes more or until squash is until golden brown and soft and walnuts are toasted, stirring frequently.

Trim away just the very bottom of the chard stems and make 3 lengthwise cuts in the leaves; cut stems and leaves into 1/2-inch thick strips. Add to skillet with squash and cook until lightly wilted. (Chard will wilt further as it stands.) Season to taste with salt and pepper.

Add remaining butter to a medium skillet and cook over medium-high heat until it begins to foam. Swirl skillet until butter begins to brown. When lightly browned, add vinegar and garlic and stir to mix. Stir in sage and salt.

Cook ravioli according to package directions. Drain well.

Stir a little of the butter into the butternut squash mixture, then add ravioli to the skillet with remaining browned butter; toss lightly to coat

Transfer pasta to a large platter or individual plates and top with squash mixture. Sprinkle with Parmesan cheese and serve immediately.