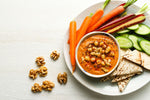 Roasted Red Pepper & Walnut Hummus
With just two steps, this is the simplest recipe you can make to up your snack game. Throw all of the hummus ingredients into a food processor after rinsing your chickpeas, and blend until smooth. It's flavored with strong accents of roasted red peppers, paprika, and cayenne that blend together effortlessly with the tahini, chickpeas, and walnuts. Use our Habanero Walnuts for some extra spice or, our Organic, Raw Walnut Butter for a creamier finish. Click here to view the recipe.
INGREDIENTS
2-3 cloves of garlic
1/2 cup Nutty Gourmet Habanero Walnuts/ Organic Raw Walnut Butter
1/2 cup roasted red peppers
1 can chickpeas, rinsed, dried and shell peeled
1/3 cup tahini
2 tablespoons olive oil
2 tablespoons water, as needed
1 teaspoon paprika
1/4 to 1/2 teaspoon cayenne
Juice of 1 lemon

Salt to taste
PREPARATION
Rinse and peel your chickpeas.

Place garlic in the food processor with the motor running to chop.

Add remaining ingredients and process until very smooth. Season with salt.

Serve with cut vegetables or pita bread or pita chips.