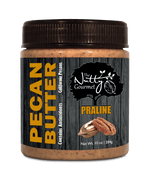 The Nutty Gourmet Launches Salted Pistachio Butter and Praline Pecan Butter
Nosh
Press Release
March 10th 2020
HUGHSON, Calif.– The Nutty Gourmet, affiliate of Grower Direct Nut, and family-owned walnut farm and processing facility, now features a delicious lineup of locally-grown nut butters. The Nutty Gourmet features six nut butters to suit a multitude of tastes. The products feature four varieties of walnut butter including a classic roasted version, sea salt, honey, and maple cinnamon. The company is also launching a delicious salted pistachio butter and a praline flavor pecan butter. They are available in a 10 oz. jar for a Suggested Retail Price (SRP) ranging from $7.99 to $11.99.
Each walnut butter is made with the company's very own non-GMO and sustainably grown walnuts. The roasted variety is for those that want the simple walnut flavor, while honey and maple cinnamon add a touch of sweetness that goes great as a topping. For consumers that want that roasted/salted balance, the sea salt variety further enhances the deep flavors of the walnuts.
The pistachio nut butter is lightly salted to accentuate the unique flavors without any added sugars. It's made with California-sourced pistachios, is keto-friendly, and is gluten and preservative free. The Nutty Gourmet's pecan butter is praline-flavored, so it has a touch of sweetness to balance the pecan taste. Packed with antioxidants, the pecan butter option gives consumers a boost of healthiness without any preservatives.
In addition to Walmart and Sprouts, The Nutty Gourmet also sells its Sea Salt Walnuts at 1160 Tractor Supply Stores nationwide. Customers can also find their natural seasoned snack walnuts (seven flavors: sea salt, rosemary, habanero, honey, maple cinnamon, chipotle, and buffalo), as well as new products like pistachio butter and pecan butter, in their online shop or on Amazon.com.
For More Information
prnewswire.com/news-releases/the-nutty-gourmet-features-six-delicious-nut-butters–family-run-nut-farm-offering-non-gmo-walnut-pistachio-and-pecan-301015772.html