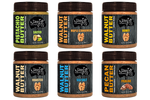 The Nutty Gourmet Launches New Line of Nut Butters
Deli Market News
By Lilian Diep
Hughson, CA—March 17th 2020
In this new era of innovation, the team here at Deli Market News is starting to believe that charcuterie and cheese boards have been missing one specialty food product from their spreads: nut butters! And luckily for all those retailers looking for something unique to cross-merchandise with their meat and cheese offerings, The Nutty Gourmet, a family-owned walnut farm and processing facility, just released a new lineup of six locally-grown nut butters.
"We stand by our great selection of nut butters, which we proudly consider the very best available today," said Aaron Martella, CEO of The Nutty Gourmet. "The flavor profiles in each nut butter reflect the care we take in offering products that are not only environmentally-friendly but also delicious."
The new lineup features four varieties of walnut butter, including a classic roasted version, a sea salt, a honey, and a maple cinnamon—with a salted pistachio butter and a praline flavor pecan butter rounding out the nut butter line. Each walnut butter is made with the company's very own non-GMO and sustainably grown walnuts, and the variety of flavors offer unfounded versatility.
According to a press release, the lineup of nut butters is all produced with The Nutty Gourmet's strict sustainability and quality practices. The company's processes include drip irrigation and micro sprinklers for reduced water usage, solar panels to supply 80 percent of energy needs, and good farming and manufacturing practices.
Available in 10 oz jars, The Nutty Gourmet's new offerings can be found at Walmart, Sprouts Farmers Markets, and 1160 Tractor Supply Stores nationwide.
For more specialty food news like this, stay tuned to Deli Market News.