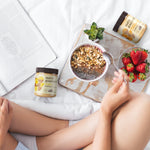 Stanislaus nut producers donate to COVID-19 front lines. Distillery helps another way
Modesto Bee
By John Holland
April 22nd, 2020
Two nut processors in Stanislaus County are donating products to workers at the front lines of the coronavirus pandemic. And producers of poultry, milk and liquor are doing their part, too.
The details:
Stewart & Jasper Orchards, based near Newman, is giving about 2,000 pounds of roasted snack almonds to police, fire, ambulance and hospital workers. Some of the 1.5-ounce packs are in boxes of 100 distributed to these agencies. The workers also can find them at company stores in Modesto, Patterson or Newman.
"The one thing that Stewart & Jasper has plenty of is almonds," said Jim Jasper, the owner and president, by email. "So, our entire team collaborated on an idea to reach out to the many brave, selfless public servants and medical professionals that are keeping us safe, watching over us, tending to our physical and emotional needs, and protecting us every day."
NUT BUTTERS FROM HUGHSON
The Nutty Gourmet donated about 7,000 jars of walnut, pistachio and pecan butters to Dameron Hospital in Stockton and the University of California, Davis, Medical Center in Sacramento.
The products are a new retail venture at Grower Direct Nut Co., based near Hughson and owned by the Martella family.
"UC Davis is very close to our hearts," said Tony Varni, vice president of sales and marketing, in a news release. "As a fellow alum, I wanted to make sure our company did something to put a smile on the faces of these nurses and doctors who are risking their lives for our community day in and day out."
DAIRY CO-OP STEPS UP
Dairy Farmers of America, whose holdings include a Turlock cheese plant, plans to give $500,000 to food banks dealing with the coronavirus.
The farmer-owned cooperative will work with food banks in 30 locales around the nation where it has plants or offices. The Turlock area is served by the Second Harvest Food Bank of San Joaquin & Stanislaus Counties.
"As dairy farmers, we are proud of the role we play in feeding families, and in times like these when so many are struggling, we feel passionately about doing all we can to help," said board chairman Randy Mooney, a dairy farmer in Missouri, in a news release.
GIVING FROM THE STILL
Corbin Cash Distillery, which makes spirits from local crops near Atwater, gave 50 gallons of hand sanitizer to the Merced Union High School District.
The high-alcohol substance will be used by front-office and food-service employees still working despite the stay-home order for students and teachers, the Merced Sun-Star reports. The company distills vodka and gin from sweet potatoes and whiskey from rye.
A far larger producer of spirits, E.&J. Gallo Winery of Modesto, made sanitizer last month for the Stanislaus County Office of Emergency Services.
MORE FROM FOSTER FARMS
Foster Farms has added to its already large donation of poultry to California food banks, announced April 9.
The initial amount was about 2 million servings of chicken and turkey in West Coast and Southern states where it has plants.
The company has since announced that another 400,000 servings will go to food banks in Visalia, Hanford, Salinas, Bakersfield, Los Angeles and the Southern California cities of Oxnard and Wilmington.
Foster Farms processes turkey in Turlock and chicken at its Livingston headquarters and several other plants.
On Tuesday, chickens from Foster Farms were part of a drive-though giveaway by the Central California Food Bank and Fresno Rescue Mission.