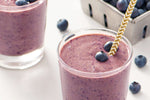 Blueberry Walnut Pomegranate Smoothie
Recipe used with permission from U.S. Highbush Blueberry Council.
INGREDIENTS
2 cups loosely packed baby spinach

1 cup fresh or frozen blueberries, rinsed

1 cup low-fat plain Greek yogurt 

1 cup pomegranate juice

1 cup ice cubes

2 tbsp chia seeds

1/4 cup walnuts
PREPARATION
In a blender, purée spinach, blueberries, yogurt, juice, ice cubes, chia seeds and walnuts until smooth.

Divide smoothie between 2 glasses.

If the smoothie is too thick, stir in 1 or 2 tablespoons of water.